Moscow Lighting Exhibition(Interlight Moscow) in Russia, sharing glorious moments with worbest
2023-09-11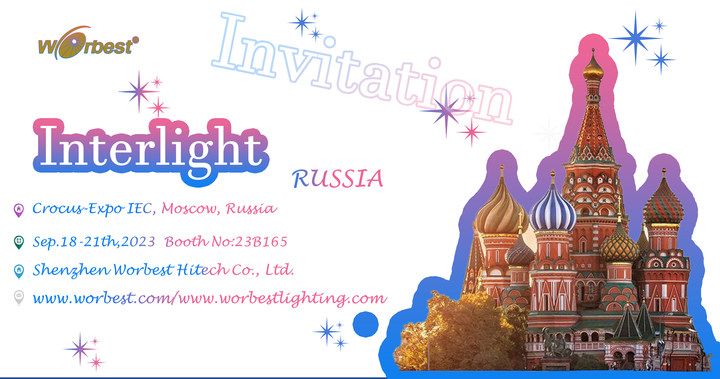 Dear friends, the big moment is coming! We are excited to announce that the Moscow Lighting Exhibition in Russia(Interlight Moscow) will officially kick off on September 18th! In this long-awaited exhibition, Worbest is honored to be a participating member and will be present in person to present a unique and wonderful event to everyone.
As a manufacturer and supplier of lighting fixtures, Worbest has been committed to providing customers with high-quality products and excellent services. This Moscow Lighting Exhibition(Interlight Moscow)  will be an excellent opportunity for Worbest to continue to showcase our innovative designs and high-quality products. We will take this opportunity to show the diversity, durability and stunning lighting effects of Worbest lighting fixtures to the world.
This week, the Worbest team will go to Russia and devote all their efforts to display layout work, striving to create a unique and eye-catching booth. We believe that whether it is innovation in design or display of lighting effects, Worbest will bring a shocking experience to the audience. We are eagerly looking forward to having face-to-face offline communication with you on-site to share the latest trends, market trends and various innovative solutions in the lighting industry.
This Moscow Lighting Exhibition(Interlight Moscow)  is not only a platform for Worbest to show its strength, but also an opportunity for us to establish close ties with customers and partners. Through direct interaction with everyone, we will have a deeper understanding of your needs and requirements in order to provide you with more personalized and satisfactory solutions. Whether it is a hotel, office building or residential environment, Worbest will create a perfect lighting atmosphere for you through creative design and high-quality products.
In addition, in addition to exhibitions and exchanges, the Moscow Lighting Exhibition(Interlight Moscow)  will also host a series of exciting activities. You will have the opportunity to participate in professional lectures, seminars and industry forums, discuss future development trends with experts and peers from all walks of life in the lighting industry, and expand your network of contacts in the industry. This will be an inspiring and creative time, providing valuable opportunities for learning and growth.
Finally, we sincerely invite you to visit the Worbest booth and experience for yourself the beauty of lighting brought by Worbest. Let us appreciate the unique charm of Worbest in this event and jointly open a bright chapter in the future. Whether communicating with us directly or with other exhibitors in the industry, this will be an unprecedented opportunity to inject new vitality into your career and development.
Worbest looks forward to meeting you at the Moscow Lighting Exhibition(Interlight Moscow)  in Russia and witnessing the miracle of the lighting industry together! Let us light up the future together and illuminate the most beautiful side.
Booth No:23B-165
Sep18-21th,2023