What are the ETL and UL marks on the package?
2022-09-17
---
An overview of ETL certification:
ETL is the most dynamic safety certification mark in North America, dating back to the electrical testing laboratory founded by Thomas Edison in 1896. It has wide popularity and recognition in North America. The ETL logo is the exclusive logo of Intertek, the world's leading quality and safety organization. The products with the ETL logo meet the mandatory standards in North America and can be successfully sold in the North American market.
If the product is tested to meet the relevant product safety standards, the manufacturing plant agrees to receive strict and regular inspection to ensure the consistency of the product quality, which can be sold in the United States and Canada markets.

An overview of UL certification:
UL is short for Underwriter Laboratories Inc. The UL safety testing institute is the most authoritative organization in the United States and the largest private organization in the world for safety testing and certification. It is an independent, for-profit, professional organization experimenting with public safety.
Mainly engaged in product safety certification and safety certification business, its ultimate purpose is to get a fairly safe level of commodities for the market, for the personal health and property safety to ensure contributions.  As an effective means to eliminate technical barriers to international trade, UL also plays an active role in promoting the development of international trade.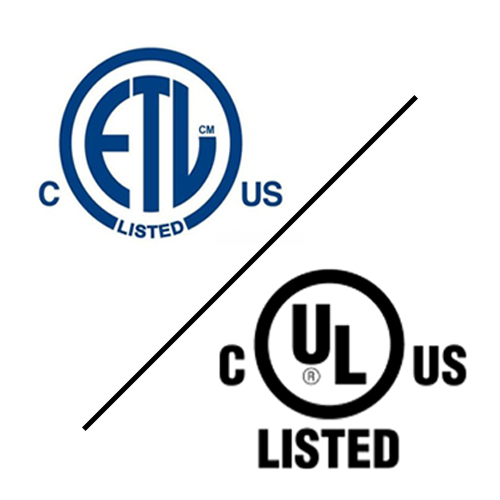 ---
 Both UL and ETL represent that the product has passed the test of the national approved testing laboratory NRTL, in accordance with the corresponding safety standards, and also represent that the manufacturer agrees to receive strict regular inspection to ensure the consistency of product quality.
 
 ETL and UL have the same North American market access effect, and both are recognized by the United States and Canada.

 
---
WORBEST  is a professional lighting manufacturer,Focus on providing quality lamps for the North American market for 8 years, and as a supplier of Menards.

It has spent years learning what works,what works well, and what is needed to design a unique lighting solution for any application.

All products have UL/cUL ,ETL/cETL,Energy Star,FCC,ICES and so on.

If you need quality residential lighting fixtures, contact us.  Click here to browse our LED lighting fixtures.